E-Safety
Saint Thomas More Catholic Voluntary Academy fully recognises the contribution it can make to protect children and support them in school. The aim of this policy is to safeguard and promote our pupils' safe use of internet and electronic communication technology such as mobile phones and wireless connectivity. The internet and other technologies have an important role in the learning and teaching processes however, we feel it is important to balance those benefits with an awareness of the potential risks. This policy will highlight the need to educate children and young people about the benefits and risks of using new technologies both in and away from school. It will also provide safeguards and rules to guide staff, pupils and visitors in their online experiences. The school e-safeguarding policy will operate in conjunction with others including: policies for Good Behaviour, Anti-Bullying, Single Equality and Internet Access Agreement with parents/carers. The school acknowledges e-safety and e-security as important issues for our school community and has made a considered attempt to embed e-safeguarding into our teaching and learning using technology and have considered the wider implications of e-safeguarding beyond classroom practice such as security and data.

Factsheet for parents and carers
The factsheet linked above provides details of useful websites to help parents/carers keep young people safe online, including information about setting parental controls and safety tools on social networks and other online services.
Reviews of online games for parents and carers
Follow the link above to the Common Sense Media website which has open and honest reviews from parents and children about online games. It contains useful advice on the age suitability of online games; the reviews highlight important topics such as online chat risks and in-game purchases.
Feedback from children in school on Safer Internet Day suggest that a number of children are playing Roblox online, Concerns have been raised about strangers having the ability to contact young people using online chats from within this game.
Reviews of books, movies, TV, apps and websites for parents/carers
Similar to Commons Sense Media's reviews of online games, reviews for other forms of media are linked above. Follow the link, select the type of media you are interested in, click 'Go' and then search for the title you wish to research.
Some key messages discussed with the children...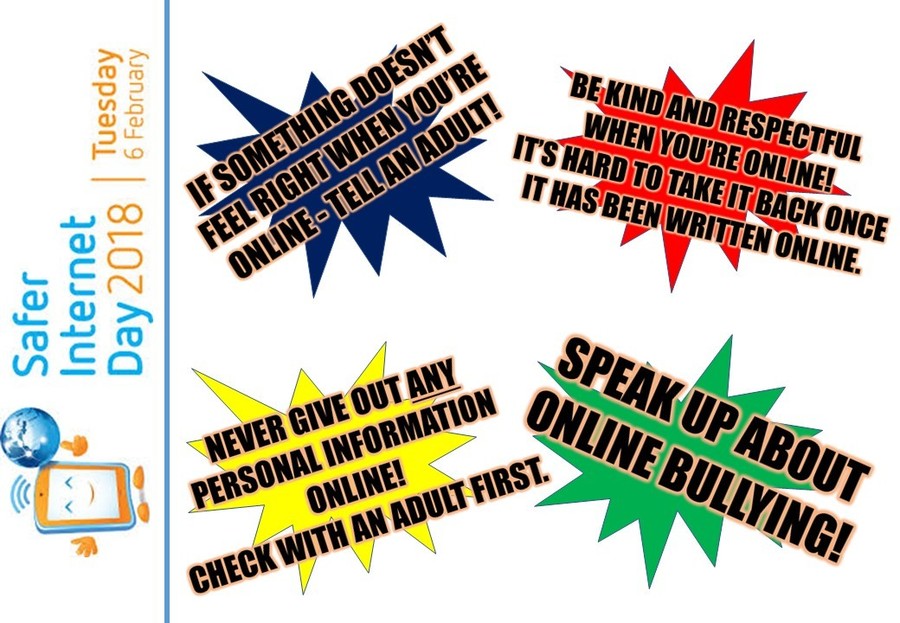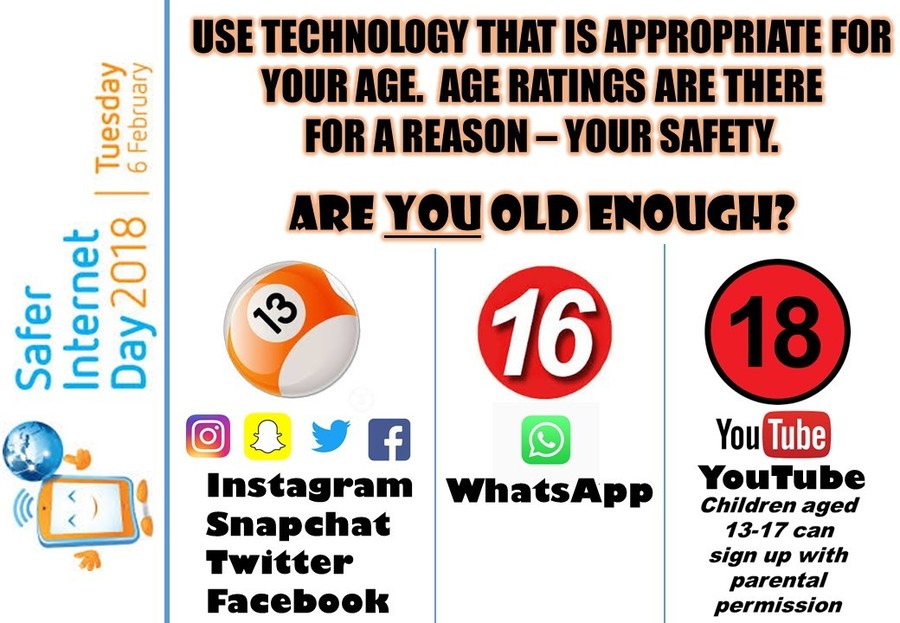 NSPCC visit to school... Speak Out. Stay Safe.
The NSPCC visited school on Monday 12th March 2018. Cyberbullying was one part of the material covered. All children attended assemblies and the Year 5 & 6 children took part in workshops. Details of the NSPCC's Speak Out Stay Safe campaign are linked here.