PE News & Latest Scores
Jackie O'Halloran (johalloran) on: PE News & Latest Scores
Under cold, blue skies the STM XC Team took part in the third and final race in the Prestwold
Hall series on the 26th of November. Thirty-eight STM XC Team members turned out to race.
Final results have not yet been posted however I wanted to get a bit of a recap in the
Newsletter.
Overall, the Year 3, 4 & 6 Boys Teams took first place in the medium schools category. I am
most confident that the STM XC Team took second place overall just behind Leicester Grammar
but in front of 120+ other schools! Woo hoo!
With three first place wins, Milo Brotherton was the overall Year 4 Boy winner. He is irrefutably
the best Year 4 Boy in the County and if I had to put money on it...he is probably the best in the
Midlands as well. His brother, Jonty, had a spectacular set of races as well, finishing fourth
overall in the Year 6 Boys.
As the morning wore on the course got muddier and muddier however, we had so many
fabulous finishes with our team members racing very strong and improving on past
performances. At the end of the day, we have taken home quite a bit of silverware to hand out
at the STM XC X-mas party on the 5 th of December.
Our Team has worked very hard these past three months and it showed on the day. I am very
grateful to all the parents who have supported the Team by taking your child out to Prestwold
throughout the season. Our Team definitely deserves a nice holiday break and training will
resume after the New Year so we are ready for the Ratcliffe Invitational, Knighton Park Qualifier
and the County Championships in the Winter Term.
As always all the Coaches are extremely proud of the consistent hard work and fabulous racing
the STM XC Team has displayed.
Submitted by:
Coach Parkes
---
PE in the News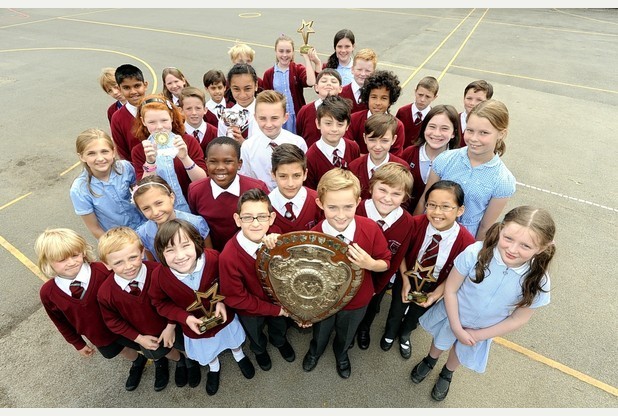 "A Leicester primary school has achieved an outstanding level of sporting success in recent weeks, winning five different competitions.
St Thomas More Catholic Voluntary Academy in Knighton have won city-wide tournaments in swimming, rugby, tennis, football and basketball. Under the guidance of PE co-ordinator Jim McGill, the key stage two pupils at St Thomas More have excelled. As part of the School Games, a government-backed initiative, St Thomas More triumphed in tag rugby at Wyggeston & Queen Elizabeth I College, and in mini tennis red at Knighton Tennis Centre."
(Article Extract From the Leicester Mercury)